Welcome to YouthWrite Peak Experience 2017
for ages 15-19: July 2-7, 2017

Prepare your application documents - Info Sheet
Registration deadline is June 16 (but we usually fill up before then!)
Soon we'll have great info about exciting courses and instructors.
Check back!
For ages 11-14, please see our River Valley Experience 2017
or
for our adult program, please see JustWrite 2017


Never been to Kamp Kiwanis? Visit this page for the address and a link to Google Maps.
Cost: $625

(Price includes: tuition, supplies, meals, snacks, accommodation, and entertainment.)
YouthWrite Peak Experience:
Our Fabulous Instructors and Courses
Ghada Al-Atrash
Rachel Ann is a fun loving full-time yoga teacher in Calgary. She is recognized with Yoga Alliance as an RYT-500and has traveled far and wide to deepen her understanding of yoga. She has done over 800 hours of training and continues to explore the mechanics of yoga. Prior to yoga, Rachel Ann was overworked, needed more then the corporate world had to offer and wanted to LAUGH more. Now, she has a passion to share her love for yoga through lively dynamic
sequencing and by creating an experience which allows the student to
take the teachings presented in class off the mat and incorporate them into their daily life. Rachel loves to laugh until it hurts and lets loose on the dance floor. She dances like no one is watching and some of the best advice she ever got was to just 'be herself'. She's silly, outgoing and free in all aspects of her life.
Creative Writing through Mindful Movement - Are you able to STOP your monkey mind from jumping from one place to another? How about being in STILLNESS for more then one moment? Come practice Mindful Yoga with meditation, play, and laughter that will inspire you to write from your heart! Each class will have allotted time to write your experience, reflections and any inspiration or story ideas that your received during the practice.

Hamish Boyd has been acting since the age of ten, where he played a hedgehog in Alice in Wonderland. Since then he has lost count of the various roles he has played from Renfield the flyeater in Dracula to a Nazi Officer in Good to Elzy Lay in the Legend of Butch and Sundance. However, his most challenging and favorite roles are in his autobiographical solo performance, My Autopsy, where he plays over 30 characters including himself from the age of 10 to 50! Hamish started writing in grade one and has written plays, puppets shows, documentaries, music and poetry, including Light In Darkness, a collection of poetry and his original photos. Hamish will be performing My Autopsy in London, England just before YouthWrite, and afterwards, will perform in Woodstock, New York and Amherst, New Hampshire.

Spark your Writing Spoken Word with Images, Sputterings, Plosives, and Gibberish - Step into the parlor of your night and daytime dreams. Ignite your writing through images, pictures, photos, paintings or snapshots … moments in your life. Feel words that stimulate your emotional being, your idea visions. Allow writing to write you into breathing and feeling where you are. Let's make up words, invent sounds that evoke more than thoughtful precious treadings pretending to be writing. Gibberish may paint more than Wikipedia pontificants pontificating. How can we dance with vocal sounds, plosives, sputterings, throat farts and all snorts of marvelous madness? Then let's all do it live by speaking, singing, shouting, whispering, moaning lunacy to earth, sky and all ears who can hear and delight in the joy of the weird, the peculiar, the mellifluous mutterings of our dreams and visions.

Wally Di
efenthaler loves his '76 VW Westphalia (see photo, right) almost as much as he loves teaching. A long time social studies teacher he has been around long enough to remember the '60s, revile the '90s and embrac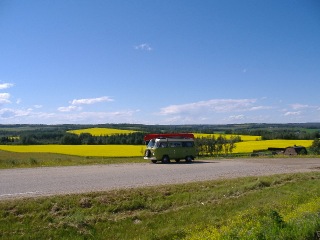 e the present. He has done neat stuff and has been recognized by receiving the Governor General's Award for excellence in Teaching Canadian History, the Alberta Premier's Award of Excellence, the ATA Social Studies Council Award of Excellence and is a founding member of Canadian Council for Geographic Education. Most importantly he loves learning, teaching, thinking, and living the dream.
Fif Fernandes is an actor, director, writer and medical clown. She travels internationally sharing love, laughter joy and peace to anyone and everyone by facilitating workshops, directing plays and clowning in hospitals.communities and villages. Most recently she was invited to Delhi and London.
Journey to the Centre of Your Being - The brilliance and genius lie within! Through improvisation and role play, discover the power to write from the depths of who you really are and / or who you aspire to be. Learn, grow, write and, oh yes, have fun!

Jacqueline
Guest, international award winning author of nineteen novels,has stood on an iceberg, flown a kite in a hurricane, ridden an elephant and dodged hungry lions all while on the job as a writer! Her fast-paced novels have topics that range from deadly video games to comic book superheroes and mysterious meteorites! She has over twenty years of experience working with students of all ages and has taught reading and writing workshops across Canada, the US and as far off as Africa. In 2017, Jacqueline was awarded the Order of Canada.
Building Your Story from the Bones Out
When it comes to great stories, there is a system that ensures success with teachers, editors and publishers. Join Jacqueline to discover how this mysterious system works. This is the juice – it's the same system Jacqueline uses to create her novels. Every writer needs to keep their early works for posterity, which means, yes! We will be building TIME CAPSULES and stuffing them full of your excellent essays, perfect poems and adorable doodads!
Bob Jahrig is a St.Albert based singer/songwriter whose writing reveals his love of language, melody and a search for beauty in the human spirit and the natural world. His debut CD, Tree Tops, was released in 2002. Bob released his second CD, Colour of the Moon, in the fall of 2008. In addition to performing at folk venues across Alberta, Bob has taught songwriting to youths for over eighteen years as an instructor with YouthWrite and as an artist in residence at public schools.

Write to Sing - Explore the magic that happens when words on a page take flight on a melody. In a supportive and nurturing environment, work together through the process of crafting your words into meaningful songs. While knowledge of music and ability to play an instrument are always helpful, our focus is on the writing process and how words can be wrapped around a melody.

Carolyn Pogue is the author of Gwen, West Wind Calling, Rock of Ages and 12 other books for children, youth and adults. She writes fiction and nonfiction, and her blog Sightings is read across Canada and beyond. Carolyn is the co-ordinator of Colouring Peace in Calgary, a welcome gift for Syrian refugees. She loves meeting young authors in schools, writers' centres, young writers' conferences — and fabulous YouthWrite.
In Other Stories: Other Voices we will explore worlds of wonder as we use our own creativity to write for the silenced ones. Who speaks for Elk? Mountain? Bear? …. is it you? Drama, poetry, fiction — choose your own genre. Bring your imagination, your passion and a very fast pen.

Tanya Roach is an Inuk born and raised in the North. She is originally from Rankin Inlet, Nunavut and living in Yellowknife, NT. The long, dark Northern winters have challenged her to pursue creative projects such as writing, drawing, and throat-singing. She has performed traditional Inuit throat-singing at various events across Canada and will perform at Yellowknife's 'Folk on the Rocks' this year. At a young age she was admitted into the foster care system where she lived until she was 19-years-old. Writing has been a form of therapy during difficult times and helped shape her outlook on life in a positive way. She has written for UpHere magazine (Yellowknife), Write (the Magazine for the Writers Union of Canada) and presents at NorthWords in Yellowknife. She is an introvert but will get up in front of a crowd to share empowering stories of the strong, wonderful women in her family. In her course she hopes to inspire youth to exercise their authentic voice no matter how quiet or loud it may be.
Speak Your Truth: Only You Can Tell Your Story - Join Tanya Roach in Speak Your Truth where you are invited to tell your story through autobiography. Everyone experiences life differently and personal stories offer the many facets of the human experience. Some are simple, hilarious, amazing, dark, weird or interesting. Personal stories can breathe life into the ordinary, unite strangers and help you understand yourself and those around you. However different they may be, we each have a story and only you can tell yours.

Thomas Trofimuk is an Edmonton writer who writes poetry, short-fiction, and novels. He has published three novels The 52nd Poem, Doubting Yourself to the Bone, and Waiting for Columbus. His books have garnered critical praise and he has won some literary awards. A fourth novel, This is All a Lie, will be published in the fall of 2017. If you want to meet him, he's that funny looking guy over there, at the edge of the party, dancing (badly) by himself.
The Juice – how to get your creativity REALLY flowing! Ernest Hemingway sometimes talked about getting his creative "juices flowing" and so will we. Through simple meditation exercises, spider-webbing, and free writing, we will explore ways to turn on your creativity, to dance fearlessly with the muse, to spark inspiration – to get the juices flowing. We will use a series of "what if" prompts during the week. We will hold hands (metaphorically) and let go of the fear of writing badly – and we will just write.

Sheri-D Wilson is the award-winning author of eleven books, the creator of four short films, and has released three albums which combine music and poetry. She is known for her electric performance style, making her a favorite of festivals around the world. She has read, performed & taught in festivals across Canada, USA, UK, France, Spain, Belgium, Mexico, and South Africa. A strong advocate for social change, in 2016 she produced The School of Thought: Languages Lost & Found. She was Artistic Director of the Calgary Spoken Word Festival, and she founded and was Director of the Spoken Word Program at Banff Centre.

Breathing Poetry into Life - Focus on the possibilities of individual memory, story, dream, rhythm and voice. Poetry is everywhere when our eyes become ears and our ears become eyes. This workshop is about release, personal revolution and revelation. Delve into the Art of Play and the Preciseness of Epiphany. Focus on the presentation of your words and find the opportunity to traverse the full meaning and breath of your unique voice. Join the incomparable Sheri-D Wilson for a Spoken Word Poetry super-stimulator: in the authentic voice, we rejoice – of the simulator, see you later alligator.
Spyder Yardley-Jones bears the mark of a spider on his forehead and is an internationally recognized visual artist. Illustrator of the graphic novel, Jamie's Got a Gun, and the picture book, In the Graveyard, Spyder also spins his web as an assistant art preparator, installing shows at the Art Gallery of Alberta. He teaches the art of cartooning and illustration in elementary, junior and senior high schools in an artist in residency program sponsored by the Edmonton St. David's Welsh
Society.
Dr. Bartholomew's Curious Shop of the Bizarre: Join Spyder for a multi-media sculpting of strange and bizarre specimens from the darkest realm of your imagination. Draw. Sculpt. Document. Dare to enter the curiosity shop of your own brain! Learn what dwells there - oh what stories you could tell.
The Amazing Peak Supers:
Marla Albiston has been involved with the YouthWrite organization for eleven years...no wait, maybe twelve years…. She can't remember exactly, because she's been having so much fun! This summer, she'll be continuing her role as a supervisor at YouthWrite, in addition to being the coordinator of JustWrite for a third year in a row! She completed her Bachelor of Education degree at the University of Alberta (where she was first introduced to the lovely, Gail Sobat), and over the last decade she has had the wonderful opportunity to apply her love of education with her passion for dance, working frequently with the Dance departments at Victoria School of the Arts, Vimy Ridge Academy, Queen Elizabeth High School, and currently, Eastglen High School. Marla also teaches advanced Jazz dance for Orchesis at the U of A, works as a freelance dance teacher and choreographer, dances with the Contemporary company, ViVA, and trains in aerial circus with Firefly Theatre and Circus. Most importantly, she is beyond excited for all of the writing, learning, creating, sharing, and playing that will be taking place at these two fabulous camps (not to mention that she loves Gail the most)!

Elena Belyea is thrilled to be returning for her fourth summer at YouthWrite! Elena is a queer performer, producer, arts educator and graduate of the National Theatre School of Canada's Playwriting program. She is Artistic Director of Tiny Bear Jaws, a little theatre company with teeth, and a co-founder of the Common Ground Arts Society's annual Found Festival in Edmonton, a showcase of multidisciplinary arts events that take place in non-traditional venues. Little known (but utterly unsurprising) fact: She's gaga for Gail!
Anna Cooley is a film writer-producer-director based in Calgary. Her multi-award winning feature documentary A Sauropod Abroad is currently making its way around the international festival circuit. Her short narrative film Sleepwalker, made with the support YouthWrite and its talented supervisors, premiered in February 2017. Her production company Erratic Pictures creates projects that explore different styles of storytelling through film, collaborating with artists in many disciplines and experimenting with new technologies like virtual reality. Recently, Anna developed and taught the Calgary Society of Independent Filmmakers' 2017 Spring Break Movie Camp, a one-week intensive film lab for teens. She is thrilled to be back at YouthWrite for her 7th year as a Super and to be working with beloved Gail!

Cole Feth, who considers himself to be Gail's most prized university student, is a new recruit to the YouthWrite team. As such, he asks you be gentle, kind and, of course, play as many practical jokes on him as possible. Cole asks that you do not, however, use his love for sports against him as he has recently discovered he was merely a nerd trapped in an athlete's body. He loves to write, tell jokes (almost entirely of the sarcastic nature) and is really hoping to make your experience at YouthWrite a memorable one. He does not yet fully comprehend how much he adores Gail.
Miranda Martini is a musician and writer based in Calgary. She studied English literature and creative writing at UBC and recently completed a master's degree in songwriting at Bath Spa University. Her writing has appeared in several local and national publications, including Alberta Views Magazine and Reader's Digest, and her article, "Women in Charge" (2014), won a Western Magazine Award for Best Emerging Writer. She recently performed in and co-wrote music for Cheryl Foggo's play John Ware Reimagined, which will be remounted in Edmonton this fall. Miranda attended YouthWrite as a camper from 2001 to 2005, and she's so excited to be back as a supervisor because she loves Gail the most!

Morgan Moffatt is extremely excited to be returning for her fifth year at YouthWrite! Having discovered the joy of the fine arts while attending high school, Morgan pursued a Bachelor's of Education, minoring in fine arts, from the University of Alberta. After graduation, Morgan began her teaching career at the same school where Gail worked! She therefore loves Gail the most out of any other super. Morgan is currently calling Vancouver home, enjoying life as a substitute teacher. When she isn't molding the minds of tomorrow, she enjoys reading, bird watching and long walks on the beach.

Peter Takach is a writer and teacher whose works have surfaced in some of the nation's finest magazines, literary festivals, and recycling bins. Banished from his hometown for crimes against humanities, he can be found teaching high school English or perched on driftwood staring out at great Neptune's ocean. A proud alumnus of YouthWrite and the Spoken Word Youth Choir, Peter is thrilled to once again be working with the beautiful and talented Gail.

Noel Taylor is very excited to be back as a Super yet again, for what is going to be an awesome YouthWrite! This marks Noel's ninth summer as a YouthWrite Super! Noel currently teaches high school drama and runs the theatre program at WP Wagner. This year Noel's student improv team won first place in the Canadian Improv Games Alberta Regionals and were invited to perform in Ottawa at the National Arts Centre. Noel is one of the founding members and performers with Hey Ladies! at the Roxy Theatre in Edmonton Alberta and an improviser with Rapid Fire Theatre at the Citadel Theatre. Noel originally met Gail at a hardware store (it is a great story) and also had the pleasure of being taught by Gail at the U of A when he completed his Bachelor's of Education in Drama and Social Studies. Noel knew then and knows now that he is, in fact, Gail's favourite super.
Lester Thomas is an aspiring professional hip hop dancer & actor living in Vancouver, BC. Though he has a background in personal training, he has been pursuing his passion for the arts for 3 years now & has been loving every moment. He has worked on shows such as the 100, izombie, arrow, unreal & more. Lester likes to think that he is the brown sugar to the cake that is YouthWrite & thus is very excited to be back for his 3rd summer to work with all of the familiar/ new campers, supers & teachers, and especially Gail who is his white sugar!

YouthWrite Coordinator:
Gail Sidonie Sobat is a multi-award-winning teacher and author, with eleven books for children, teens and adults, and a number of educational and academic articles. She is the YouthWrite creator/ coordinator, an international presenter, an instructor in the professional writing program at MacEwan University and in the Faculty of Education at U of A, is The Writers' Union of Canada Regional Representative for Alberta, NWT and Nunavut, and was writer in residence with the Metro Edmonton Federation of Libraries (2015). Gail is a 2016-2017 Global News Woman of Vision. She has moved thirty-two times in her life from Badlands to Siksika Nation Reserve to hideous suburbs to Istanbul to the Sunshine Coast to her writer's garret in a century-old temperamental house. She adores all of her Supers equally, and loves YouthWrite madly!