YouthWrite is extremely proud to present our instructors for YouthWrite Peak Experience 2016!
Timothy Anderson

Wally Diefenthaler

Jacqueline Guest


Bob Jahrig


Conni Massing

Brendan McLeod


Mary Pinkoski

Pam Rocker


Steven Ross Smith


Loren Spector

Barry Thorson


Thomas Trofimuk

Spyder Yardley-Jones

YouthWrite Peak Experience:
Our Fabulous Instructors and Courses
Timothy Anderson believes you can write anything. To prove it, he's written operas, screenplays, novels, articles, poetry, short fiction and non-fiction, choral works, plays, eggplants, marsupials, and six gizmos. He's won a reality TV series based on the 3-Day Novel contest, been a soloist at Carnegie Hall, sung Phantom of the Opera in Toronto, Singapore and Hong Kong, told jokes in Dollywood, and teaches Communication Studies at MacEwan University.
Walk on the Wild Side - Small subversions help us let off steam or change the world. Turn your truths into fictions, fables, micro-fictions and plant them for everyone to see or no-one to see. Change a life by writing a fortune cookie message or change a culture with a sky-written manifesto: think big and write small.
Rachel Ann is a fun loving full-time yoga teacher in Calgary. She is recognized with Yoga Alliance as an RYT-500and has traveled far and wide to deepen her understanding of yoga. She has done over 800 hours of training and continues to explore the mechanics of yoga. Prior to yoga, Rachel Ann was overworked, needed more then the corporate world had to offer and wanted to LAUGH more. Now, she has a passion to share her love for yoga through lively dynamic sequencing and by creating an experience which allows the student to
take the teachings presented in class off the mat and incorporate them into their daily life. Rachel loves to laugh until it hurts and lets loose on the dance floor. She dances like no one is watching and some of the best advice she ever got was to just 'be herself'. She's silly, outgoing and free in all aspects of her life.
Creative Writing through Mindful Movement - Are you able to STOP your monkey mind from jumping from one place to another? How about being in STILLNESS for more then one moment? Come practice Mindful Yoga with meditation, play, and laughter that will inspire you to write from your heart! Each class will have allotted time to write your experience, reflections and any inspiration or story ideas that your received during the practice.

Wally Di
efenthaler loves his '76 VW Westphalia (see photo, right) almost as much as he loves teaching. A long time social studies teacher he has been around long enough to remember the '60s, revile the '90s and embrac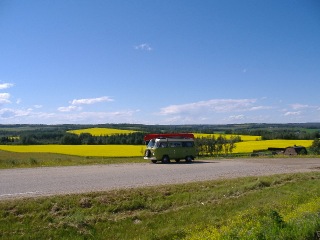 e the present. He has done neat stuff and has been recognized by receiving the Governor General's Award for excellence in Teaching Canadian History, the Alberta Premier's Award of Excellence, the ATA Social Studies Council Award of Excellence and is a founding member of Canadian Council for Geographic Education. Most importantly he loves learning, teaching, thinking, and living the dream.

Who must I be/come to be the person I hope I am? How we are says a lot about who we are! Thinking thoughtfully about the things that matter to us as visitors to this beautiful sphere means considering the legacies of our journeys. Let's spend some time together thinking, talking, sharing and writing about who we must be/come to be the people who we hope we are so that we can imagine the possibilities of be-ing.
Marcus Fung
is a cosmic detective, and a student of the Great Mystery, enrolled in the school, that is living on Planet Earth. He travels around the city visiting different communities, meeting and playing with all sorts of different people to rediscover again and again, what we all have in common with each other. Marcus has discovered that we all share a longing to belong to something. With the freedom to be creative, connected to a deep need to express ourselves, what is possible? He believes that by using the simple, universal language of RHYTHM, and a little bit of guidance, amazing things are made possible.
The First Language of Making Music - Before there was spoken language, communicating in thought, meaning and ideas, there was the rhythm of the heartbeat, the call of the birds, the rustle of the leaves and the song of flowing water. There was the colour of sound, the taste of tones, and the enchantment of melody. This class is for you whether you love to make music, or are terrified of making music. Music, rhythm and language are interconnected. Join us as we take a guided tour using our bodies, our voices, different drums, shakers, bells, blocks, gongs and flutes, and over the week develop a new vocabulary. It is a journey of joy and discovery of a language that we all once knew.
Jacqueline
Guest began writing professionally in Grade 5 when she was paid twenty-five cents by her brother to write his Language Arts essay. She now has 19 novels with topics ranging from comic book superheroes and mysterious meteorites to violent video games and the bad boys who play them. As a traveling author, she has two words to describe her adventures: buckle up! While on the job as a writer, she has stood on an iceberg, flown a kite in a hurricane, dodged killer African hornets and a pride of hungry lions! Jacqueline lives in a log cabin in the high foothills of the Rocky Mountains in Alberta where she and her computer are working on a new novel for young Canadian readers to enjoy.
Writing Now and Into the Future! - Discover how to make your writing warp to a higher dimension. Secrets on how the pros put it together correctly with tips and tools for writing now and far into your future. For those who have writing ready to be submitted to a worthy publisher, learn how to put together the Perfect Pitch Package!
WARNING: Time Capsules are involved…
Bob Jahrig is an Edmontonian whose songwriting reveals his love of language, melody and a search for beauty in the human spirit and the natural world. His debut CD, Tree Tops, was released in 2002. Bob released his second CD, Colour of the Moon, in the fall of 2008. In addition to performing at folk venues across Alberta, Bob has taught songwriting to youths for over fifteen years as an instructor with YouthWrite and as an artist in residence at public schools.
Write To Sing - In this course, we explore the meaning and magic that happens when words on a page take flight on a melody. In a supportive and nurturing environment, students will work in small groups exploring the process of crafting their words into meaningful songs. While knowledge of music and ability to play an instrument is always helpful, the primary focus is on the writing process and how words can be wrapped around a melody.
Conni Massing is an award-winning writer working in theatre, film and television. Recent stage credits include Night Shift (part of Workshop West Theatre's anthology This is Yeg), her hit rom-com The Invention of Romance and Oh! Christmas Tree (Lunchbox Theatre), currently in development as a feature film. Conni's writing has been recognized by AMPIA, the Academy of Cinema and Television, the Betty Mitchell Awards, The Writers Guild of Alberta and the Elizabeth Sterling Haynes Awards. A recipient of a Queen's Jubilee Medal (for contributions to the arts), she was also honoured as one of 100 people who have made a contribution to Alberta theatre in the last one hundred years.
Real! Live! Drama! Do you see drama all around you in the way people talk to one another–or in the silences when they don't? If you have a burning desire to develop dramatic characters and write a blueprint for actors, directors and designers, this course is for you. Get a taste of the basic skills required to write a play in this fun and active approach to creating theatrical stories.
Suzette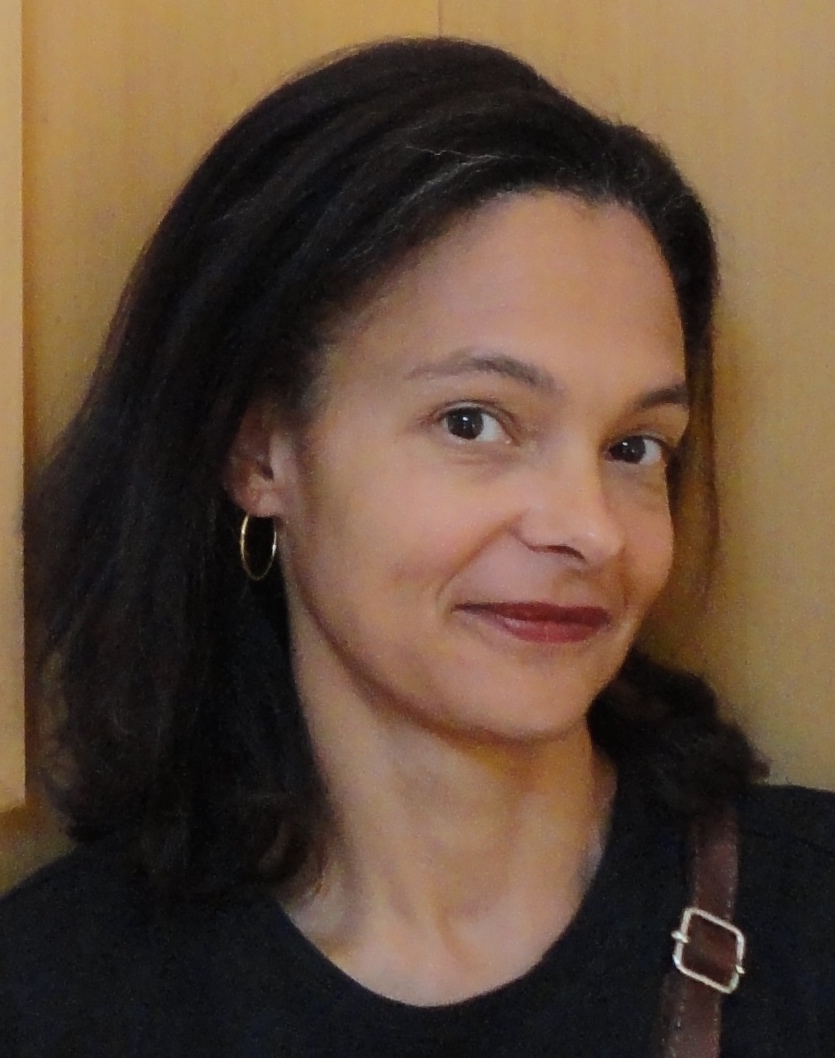 Mayr is the author of four novels, including her most recent book Monoceros, which won the ReLit and the City of Calgary W. O. Mitchell Awards, and was nominated for the 2011 Giller Prize, the Ferro-Grumley
Award for LGBT Fiction, and Georges Bugnet Award for Fiction. She teaches creative writing at the University of Calgary, and lives in a 1950s bungalow with her wife, two cats, one dog, and many, many spiders.

Suck Your Sentences' Blood! - In this class we will work on invigorating your writing at the level of the sentence: dragging away those dead metaphors, saying boo to those boring adverbs, and reconnecting with techniques that will bring our language back from the crypt. Words are the building blocks of story. By working at the level of the word and approaching prose writing with poetic intention rather than as a pre-packaged set of grammatical units
that can be taken for granted, your language and your story will cease to be predictable or generic. The poet Ezra Pound once said, Make it new. In my class we will defamiliarize language and – by extension – the way we
record experience, and in turn create original, energetic fiction. Learn how to make your words scream their lungs out in the best way possible.
Brendan McLeod is a Toronto based writer and musician. He's the author of one novel, a one woman play, and two monologues, the most recent of which is his award winning piece on consciousness, Brain. His music group The Fugitives have been nominated for multiple Canadian Folk Music and Western Canadian Music Awards and have toured to ten countries. He is a former Canadian SLAM poetry champion and World SLAM runner-up. He has taught spoken word at Langara College, and is an active youth educator with a variety of organizations. He was the Poet of Honor at the 2012 Canadian Festival of Spoken Word and 2015 Victoria Spoken Word Festival.
Labyrinth of Words - This class will tackle all matters spoken word. Interested in SLAM poetry? Storytelling? One person shows? It's got you covered. The goal will be to concoct, write, and perform our very own spoken word pieces. We'll endeavour to examine our lives -- and the lives of families and friends and strangers -- answer questions on what a story/poem is and how best to tell it, and realize that we all have something important and/or interesting to say. Oh. This class will also be fun. There will be lots of introspection! Comedy! Fire (metaphorically)! There will be lots of making sense of the universe! Man. So much to do! Better get started.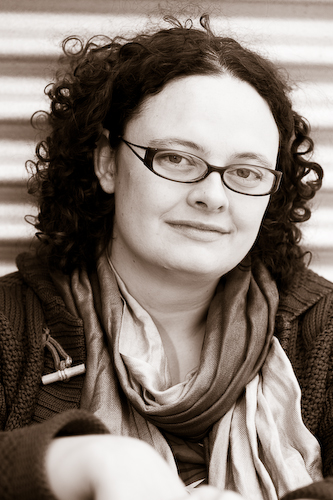 Mary Pinkoski, 5th Poet Laureate of the City of Edmonton (2013-2015), is an internationally recognized, published spoken word artist. She has performed on stages across North America and at the 2015 Winter Lights Festival in Reykjavik, Iceland. She is the 2011 Canadian National Spoken Word Champion and a winner of the 2008 CBC National Poetry Face-off. In 2015, Mary was recognized as an Edmonton Top 40 Under 40 and also awarded a University of Alberta Alumni Horizon Award for her poetry work. When she is not performing, Mary facilitates workshops for writers of all ages.
You Do Not Live In This World Alone

- As poets, we are inspired by the other art that exists around us. We inform our own poems and poetic voices from a variety of influences. In this class, we will explore and honour the art that shapes our poetry. We will experiment to see how other art forms shift and challenge and shape our poetic voice. Come to this class prepared and open to explore, dabble and be innovative with your own poetic voice.

Pam Rocker is an award-winning playwright, atypical activist, and designer, who has worked in media and communications for over 10 years. She was recently nominated as one of Canada's top 30 activists by THIS Magazine, and has always been passionate about the intersections of comedy and social change. From crafting social media brands and websites to writing sketches, speeches, and songs, she seeks authentic engagement inside of our ever-changing digital culture and challenges prejudice in non-prescript ways. Pam has trained in writing in Canada and Los Angeles, is proudly American and Canadian and is a founding member of Canada's only queer, feminist, comedy ukulele band.

Social Skillz: Writing and Storytelling Online - The Internet is full of infinite possibilities - no editors or publishers required! We can be our own boss, write our own rules, and find our own voice. But what do you want to say - really? What stories - whether 140 characters or 140 pages, do you want to tell? How do you want to create change? Navigating the complex and often overwhelming world of social media, where everything clamours for our attention, is not for the faint of heart. In this fun and highly interactive class, learn about crafting your own blog or website, being social media savvy, and how to reach the audience you want so you can share your voice with the world!
Steven Ross Smith is a poet, fiction, and non-fiction writer living in Banff. He has been publishing since the 1970s, and was a member of the legendary sound poetry group Owen Sound. He has published thirteen books. Fluttertongue 3: disarray won 2005's Saskatchewan Book of the Year Award. BookThug published Smith's poetry collection, Emanations: Fluttertongue 6 in 2015. He has led many workshops for adult and teen writers.
Tongue Text Takeoff - We'll write, then write some more. We'll talk about language – its meanings, its muscle, its sounds. We'll analyze the tools then get writing. We'll explore and write various forms: poetry, story, autobiography. We'll read aloud to ourselves and each other. We'll perform. We'll work hard and have fun. Our tongues will tingle and our pages will sizzle. We'll make words fly.
Loren Spector is a Calgary artist whose work has been shown internationally. She is also an art teacher, renovator of an old and sort-of-falling-apart house, reckless skier, and mom to two energetic children who keep her on her toes. She looks forward to her time at YouthWrite as a highlight of the summer, because of the creative young people she gets to work with there.
Identity Express - Bring your favorite words to this session, and we will bring them to life in a visual art context. In this studio class, participants will examine their own self-identity while creating a Found Object Poem-Sculpture, a Rancid-Ransom Note and a Text-in-Context Painting that gets up close and personal. This is where visual art meets writing, as your words inspire images. Bring painting clothes, a head full of ideas, a sketchbook or journal, and a photo or two of yourself. Oh ya, and bring that fearless imagination, too.
Barry Thorson is thrilled to be back teaching the perennial "Eye Say" course this summer. He brings over 20 years in professional theatre, film and television as an actor, director, writer, and instructor. In addition to directing for Theatre Calgary, MRU and Shakespeare in the Park, he has flown thousands of audience members across billions of light years as manager of the Planetarium at TELUS Spark. In February, Barry was hired as the first Executive Director for the Calgary Society of Independent Filmmakers, and will steer that organization into its next phase of supporting local filmmakers. He is currently writing the screenplay for an upcoming giant screen documentary slated for release in 2017 (very cool subject... ask him what it's about). The one thread connecting his varied and eclectic career has been a strong sense of story; regardless of what role he's in, storytelling is always at his core and never far from the surface. He looks forward to seeing you all this summer! Hello, YouthWrite!
Eye Say! - Improvise your way to creating compelling characters that will inspire and sustain you on your YouthWrite journey. Delve into a world of collective creation, and experience the power of improvisation to propel the written word. Act on impulse and write on a whim!
Thomas Trofimuk is an Edmonton writer who does not come lightly to the blank page. He has three books out in the world (The 52nd Poem, Doubting Yourself to the Bone, and Waiting for Columbus) and has just completed a fourth. He's a long-time teacher at YouthWrite, and a world famous, spasmodic dancer who trained with the Bolshoi Ballet Company.
Not just a fairy-tale moment - a little course on "imagine this" - The second you sit down to write a story, you are engaged with magic. Because time takes no time in a story, you are performing magic. Magic realism is defined as what happens when a highly detailed, realistic setting is invaded by something too strange to believe. This course will explore the importance of the magical in our writing. It will focus on the qualities of curiosity and lightness and how the magical can make our stories extraordinary. Magic, mystery, a flirtation with the unconscious – these qualities cross all boundaries of genre. This course will center on an exploration of examples of magic realism – or magical writing, and exercises focused on developing magic in our own writing.
Spyder Yardley-Jones bears the mark of a spider on his forehead and is an internationally recognized visual artist. Illustrator of the graphic novel, Jamie's Got a Gun, and the picture book, In the Graveyard, Spyder also spins his web as an assistant art preparator, installing shows at the Art Gallery of Alberta. He teaches the art of cartooning and illustration in elementary, junior and senior high schools in an artist in residency program sponsored by the Edmonton St. David's Welsh Society.
Meet your Mask - A way to ward off beasties from the dark or a celebration of ecological divinities. Draw. Sculpt. Paint. Then wear the mask you've created from cardboard, VHS tape, tinfoil and other found mediums. Create and write your own fantastical character.

The Amazing Peak Super Supers

Marla Albiston
has been involved with

YouthWrite

for over ten years now, and she is absolutely thrilled to return as a Supervisor this summer for the 20th anniversary year, as well to continue as Coordinator of

JustWrite

for the second year in a row! She completed her Bachelor of Education degree at the University of Alberta (where she was first introduced to the lovely, Gail Sobat), and over the last few years she has had the wonderful opportunity to couple her love for education with her passion for dance, working frequently with the Dance departments at Victoria School of the Arts, Vimy Ridge Academy, Queen Elizabeth High School, and currently, Eastglen High School. Marla also teaches advanced Jazz dance for Orchesis at the U of A, works as a freelance dance teacher and choreographer, dances with the contemporary company, ViVA, and trains in aerial circus with Firefly Theatre and Circus. Most importantly, she is beyond excited for all of the writing, learning, creating, sharing, and playing that will be taking place at these two fabulous camps!