YouthWrite is extremely proud to present our instructors for
YouthWrite River Valley Experience 2016!
Natasha Deen


Karen Hamdon


Roberta Laurie

Erika Luckert


Jana O'Connor

Mifi Purvis

Elsa Robinson


Anna Marie Sewell

Joseph Simons

Jan Taylor


David Wilson


Brandon Wint


Spyder Yardley-Jones
YouthWrite River Valley Experience:
Our Fabulous Instructors and Courses
Natasha Deen is the author of Burned, Sleight of Hand, and Guardian, which was nominated for a Sunburst award, won a Moonbeam award, and was a CCBC Best Pick for Kids & Teens. When she's not writing, she's trying to convince her body that chocolate is a legitimate food group. Natasha lives in Edmonton, Alberta where she spends way too much time arguing with her cats and dogs about who is the REAL boss of the house.
What a Novel Idea! - You have a great idea for a novel…a GLORIOUS IDEA!! Only…your characters are flatter than a pancake, your plot's got more holes than a brick of Swiss cheese, and you're stuck on page NOT THE END. Hang out with Natasha and learn simple tips to take your writing from good to grrrrreat (and discover the #1 secret to creating an amazing story!).
Karen Hamdon has been a student of yoga for 32 years and is a certified Senior Teacher through the Yoga Association of Alberta and the Khattab School of Yoga. She studies and teaches in India, Canada, Costa Rica and the Middle East. She offers teacher training, community-based and private classes in the Edmonton area and leads meditation and yoga retreats to India and Costa Rica. Karen is also the founding member and former director of the Edmonton Council of Muslim Communities; member of Canadian Council of Muslim Women - Edmonton Chapter, HumanServe International; and the Arab/Jewish Women's Peace Coalition.
For Writers Only! Listen to Your Inner Yogi or Yogini - Through playful, breath-centered yoga practice and deep meditations, weave stories in your bones and begin to translate some of your own body language. Explore meditation and yogic techniques to increase flexibility in your body and mind. First the movement, then through visualization, the stillness and spaciousness become your gateway to creative transformation! No matter what you write, or if you simply want to get your creative juices flowing, this workshop is for you, independent of yoga or writing experience and ability. As long as you can breathe and move you can do yoga…and your Mind, Body and Spirit will thank you! Bring a pen, a notebook, a spirit of adventure - and let yourself soar!

Roberta Laurie completed her Master's degree in Environmental Education and Communication at Royal Roads University; her thesis explored the framing of "ethical oil." Her current project, Touching This Storied Land, explores the personal narratives and public discourse surrounding the Alberta Oil Sands. She has contributed to numerous anthologies — Chicken Soup for the Soul and others — and periodicals including On Spec, WestWord and fillingStation. She has edited a number of novels as well as anthologies: In Their Own Words: The Girls of Atsikana Pa Ulendo Tell Their Stories,Christmas Chaos, and others. Roberta is an instructor in the Bachelor of Communications Studies program at MacEwan University where she teaches communication theory, grammar, rhetoric and editing.
Walk on the Wild Side - Begin each day with nature and the natural. Weather permitting, we'll learn and write outside. Take on the persona of a natural entity: tree/insect/flower. Use all of your senses to discover and write about nature. Find fresh metaphors to describe your experiences, the wild world and wild writing.
Erika Luckert started out as a YouthWrite camper many years ago, and has been writing ever since. Born and bred in Edmonton, she moved to New York City to study poetry at Columbia University. Her work has been published in anthologies and magazines such as Glass Buffalo, Room Magazine, The Prairie Journal, and The Belleville Park Papers. When she's not writing, Erika loves to teach, travel, and cook.

In Pursuit of Poetry - Why wait for poetry to come to us? In this class, we'll try all kinds of tactics to track down the beginnings of a poem. We'll be seeking poems in the river valley and the daily paper, between the brushstrokes of a painting, and even in that suspicious tupperware in the back corner of the fridge.

Jana O'Connor
is an Edmonton-born performer, improvisor, theatre instructor and playwright. She is also a cast member/writer on the national CBC Radio sketch comedy show, The Irrelevant Show. She adores improv - in performance, as a teacher, and as a catalyst for her writing. In 2010, Jana was awarded one of seven 2010 Lieutenant Governor of Alberta Emerging Artist Awards for her work as a playwright.
Eye Say! - Improvise your way to creating compelling characters that will inspire and sustain you on your YouthWrite journey. Delve into a world of collective creation, and experience the power of improvisation to propel the written word. Act on impulse and write on a whim!
Mifi Purvis has spent the last 20 years making magazines, telling true stories about amazing people. Now she works at the University of Alberta doing pretty much the same thing. One thing she has noticed is – in non-fiction and fiction – people love stories about people, even if that second group happens to comprise wizards, vampires, ghosts, lonely boys who dare to hope, vampires again, horses, a pig and a spider who are BFFs or more vampires. They're all just people, like us. Mifi lives in a bright yellow house in Edmonton, and she aspires to do better, little by little.
Sometimes Art Makes You Make Art - When you see a painting, do you imagine the scary story it's trying to tell? In a garden that's heavy with the golden weight of summer, does a line of poetry suddenly float across your consciousness like a bumblebee? Or do you dream of a favourite character from a book or TV show in an entirely new storyline – direct from your imagination? Well, it's the art that is making the synapses zap in the story centre of your brain. Don't fight it! Let it inspire your writing and make something entirely new.
"Auntie" Elsa Robinson started working as a self-taught artist in 2004. In 2013, she returned to the University of Alberta to complete the Bachelor of Arts with a major ins Art and Design. Since 2006, her acrylic paintings, mixed media collage and sculptures have been featured in numerous exhibitions. Her work addresses themes of identity, family, history and spirituality. Elsa is a recipient of the City of Edmonton Cultural Diversity in the Arts Award, the Fil Fraser Award for Outstanding Work in Visual Arts National Black Coalition of Canada. Elsa is a highly experienced teacher who has worked successfully with students aged from 3 to 83 years old and from a number of cultures.
Colour & Cut and Paste + Paint my Words -
You have a piece of writing
Brimming with sharp words and ideas that
STRIKE the readers as they pass by
Focus on those words
Focus on those images
And use the element of collage to let them SCREAM even louder!
You will be guided through this workshop by "Auntie" Elsa Robinson, a visual artist who creates two- and three-dimensional work using mixed media collage.
Anna Marie Sewell, Edmonton's 4th Poet Laureate, loves performance, languages, and the ways poetry connects people. Recent collaborative projects include Reconciling Edmonton (poetry, painting and history) and Quel Collage (poems cut up and arranged for two poets, in three languages). She blogs regularly nd is always working on poems, songs and stories.



Write Here Where We Are: Sacred Connections to Water and Land in Poetry

- Let's walk together! Let's listen to the voice of the river, and the living land within our city. Let's learn how people from the Great Lakes to Japan use listening, song and sound to reforge a living connection to our water and our world. Let's write about what that means for us, and let's inspire each other.
Joseph Simons loves how people's lives change over time. He writes historical fiction for young readers. His award winning novel, Under a Living Sky, is about two girls on the prairie in the Great Depression. There is a mysterious sequel, not yet in print. To hear part of it, go to his website, www.josephsimons.ca, and look for the video. He is getting seriously interested in bees, but don't worry—he hasn't stung anyone. Yet.
The Relationship: Why We Read, Why We Write - If you think this course is about birds and bees, girls and boys, you're right! Good writing explores the way we relate to people and things. And exploring these relationships depends on one single thing, which is secret for now--but all will be revealed. Intrigued? Join Joseph for some good discussion, better practice, and your best writing yet, And ask him what's up with those bees.
Jan Taylor
is a freelance playwright, director, dramaturge, educator and theatre producer in the Edmonton area. Playwriting credits include book and lyrics for the family musicals: Alberto the Dancing Alligator and The Wizard that Was… or Was Not and Bones in the Stones.
Jan has also directed and scripted many

collectively created pieces:
In True Pirate Fashion, Tales From a Laundry Basket,

and

The Camp Squealy-Moo Series

.
Upcoming, as part of the Fringe Arts Barns Series, with composer Richard Link and designer Daniel VanHeyst, is Fiddle Cat, an epic tale of a cat with an attitude, a princess with a temper and a kingdom with a nasty case of the gloom & shadows. Jan is currently the Artistic Director of Kompany Family Theatre.

The Play in Play -
Stir a heaping handful of drama games together with a dollop of fun and a sprinkle of imagination. Let the mixture ferment and rise until it can be shaped into a sequence of words and actions. Take those words and actions and create new drama games. Repeat. Set your imagination free!

Dare to discover that you are a dramaturge (and/or perhaps a thespian)!
David Wilson is a singer, conductor, voice teacher, yoga instructor, breath therapist, and soon-to-be-author. He is recognized across Canada as a leading authority on the use of yoga, functional vocal work and breath therapy to aid proper singing and speaking techniques. He has most recently conducted Mikado and RENT, and sung in Into the Woods and A Celebration of J.S. Bach. David currently enjoys teaching voice for Grant MacEwan Theatre Arts, Edmonton Musical Theatre, Cowtown Opera Summer Academy, and the University of Alberta. At his Edmonton teaching studio, David offers professional voice lessons, empowerment & confidence training, performance tuning, creative flow work and body, breath & voice integrative therapy. He tours regularly, offering workshops to singers, actors, teachers and professionals on vocal power and respiratory health. David is THRILLED to be returning to YouthWrite! His DVD and Book, The Wilson Method for Singers and Actors will be released in the summer of 2016.
Creative Flow and The Writer's Voice - In this class we will explore a series of artistic and fun disciplines, and then observe the empowering and joyful directions these activities take our writing. Movement, breathing, meditation, drama games, yoga and vocal exploration will lead toward our goals of increased confidence, awareness, creativity and overcoming writer's block.

Brandon Wint is an Edmonton-based writer and poet. As a member of two Canadian Festival of Spoken Word championship teams, he's traveled the country performing poetry for diverse audiences and experiencing many styles of poetry. A veteran of the Canadian spoken word community, his spoken word pieces have been recorded and his poetry has been published in national anthologies. As an experienced facilitator of poetry-writing tutorials and workshops, and a former student of Carleton University's English program, Brandon brings practical know-how and authenticity to his mentorship. He encourages his students to use the story-telling potential of poetry to help them better know their personal stories, ambitions, needs and challenges.
Labyrinth of Language - By creating spaces of warmth, honesty and trust, we will come to understand the powerful potential of poetry when married to authentic, soul-searching intention. Through writing exercises, journal sessions and heart-felt communal discussions, explore and discover the deep connections between the substance of poetry and the substance of life itself.
Spyder Yardley-Jones bears the mark of a spider on his forehead and is an internationally recognized visual artist. Illustrator of the graphic novel, Jamie's Got a Gun, and the picture book, In the Graveyard, Spyder also spins his web as an assistant art preparator, installing shows at the Art Gallery of Alberta. He teaches the art of cartooning and illustration in elementary, junior and senior high schools in an artist in residency program sponsored by the Edmonton St. David's Welsh Society.
Meet your Mask - A way to ward off beasties from the dark or a celebration of ecological divinities. Draw. Sculpt. Paint. Then wear the mask you've created from cardboard, VHS tape, tinfoil and other found mediums. Create and write your own fantastical character.

River Valley Super Supers

Elena Belyea is a queer-identified playwright, performer, producer, and poet. She has been creating and performing new work across Canada and the US for the past ten years. She is one of the co-founders of the Common Ground Arts' Society's Edmonton Found Festival, a site-specific multidisciplinary arts event which takes place in non-traditional venues. She loves rapping, knitting, Sailor Moon, playing the ukulele, and of course, Youthwrite's fearless leader, Gail.
Anna Cooley is a director, producer, writer and all around movie maker. She is the co-founder Erratic Pictures, a production company with a focus on short documentaries for a cause. Her first feature film A Sauropod Abroad will start its world tour in the fall of 2016. In the small amount of time Anna does not spend making movies, she watches them, travels the world, cooks fancy tasty things, snuggles her dog Lola, wonders at the universe and goes to YouthWrite, where she clearly adores Gail the most.
Charlotte "Charlotta Love" Cranston, a former YouthWriter, is thrilled to be back at camp for her fourth summer as a super. In June 2015, she was named Edmonton's first-ever Youth Poet Laureate. In addition to being a poet, she is a workshop facilitator, an occasional princess, and a two-time member of the Edmonton Slam Team, which competes nationally at the Canadian Festival of Spoken Word. Her work has been published in The 40 Below Project Volume II, The Glass Buffalo, The Gateway Magazine, and several online publications. She loves the smell of lilacs and the sound of distant lawnmowers. She assumes her glorious leader Gail gave her a nickname to establish Charlotta as the favourite super.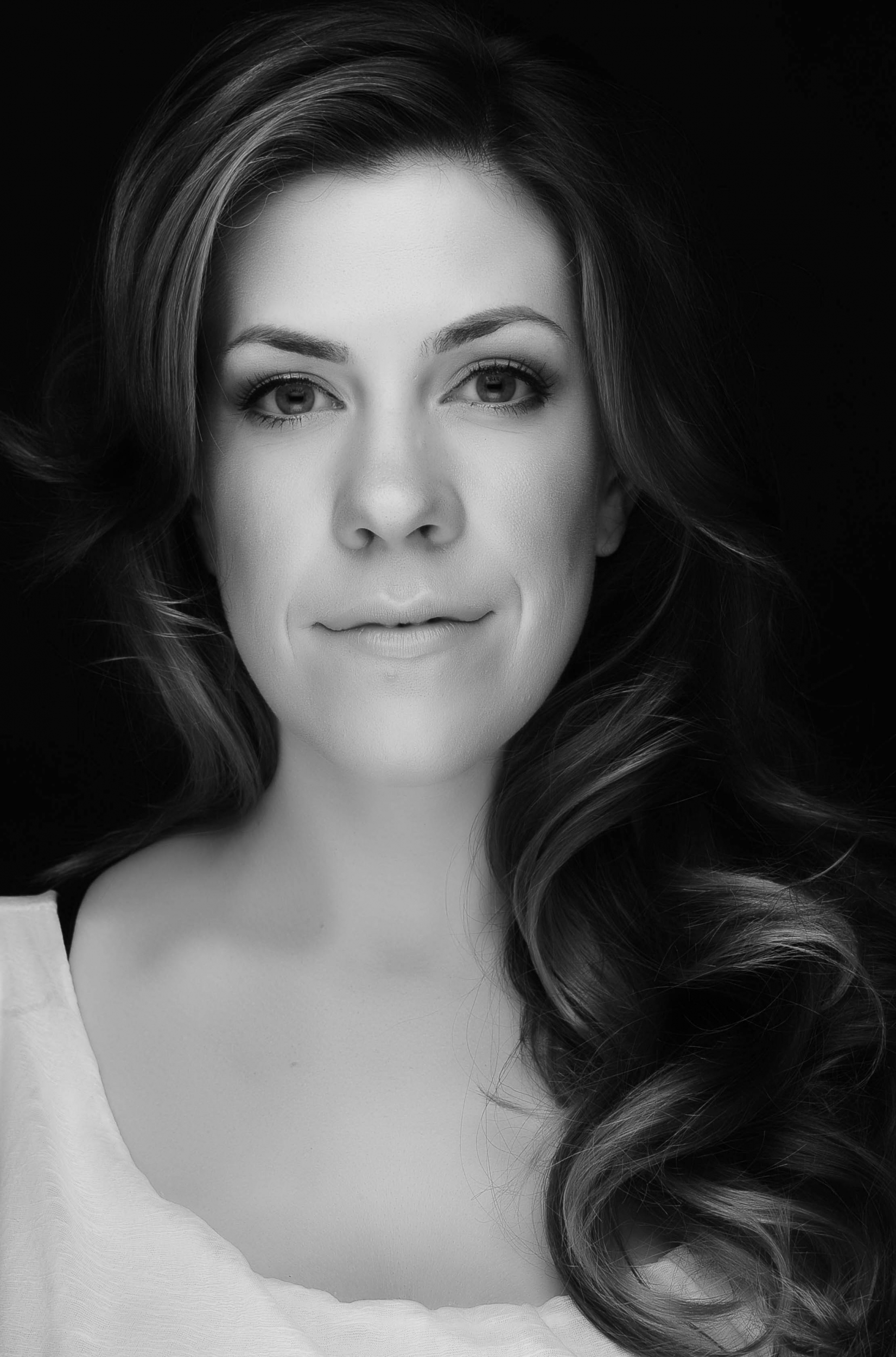 Kristel Harder
is thrilled to be returning to

YouthWrite

after two years away while she finished her Masters in Musical Theatre at the Royal Conservatoire of Scotland, and pursued a career in theatre, television, music and cabaret in London, England. Despite leaving her career in classical music, and going across the world to train as an actor, Kristel still feels somewhat under-prepared for the high calibre of show that the nightly BEEG shows present and remains most excited and terrified by the roles she may get to play at

YouthWrite

this year. Kristel is also a voice and piano teacher, a choir clinician, and occasionally, accidentally a poet who loves Gail best.