YouthWrite Peak Experience 2015 was enormous fun!
Enjoy instructor Natasha Deen's reflections on a beautiful week at Bragg Creek.
When I was a kid, my parents enrolled me for my first-ever summer camp. A week of dodgy food, dubious "friends," and counsellors who insisted that wearing sneakers in the leech-infested river would ward off the blood suckers (who knows, maybe they were enlightened leeches and disdainful of munching on any child wearing shoes that weren't fair trade) cured me of any desire to ever, *ever* go back into a camp setting, again.
Then YouthWrite came along, and I have been privileged to call this camp my summer home for the past six years. It's a camp that seems to defy description but conversely, seems too simple to explain.
Plainly, it's a camp for kids who love to write anything.
But it's more than that.
It's a camp whose core seems to be one of inclusion, acceptance, support and camaraderie. Mmmaaayyybbbee on the first hour of the first day, you can tell who the new kids are, but by the end of that first night, they are as comfortable in the camp as if they had been born to it. There are no cliques, here, no popular or unpopular kids. Everyone is equal. Equally loved, equally valued. No one sits alone, no one is left alone. Together, the students take on Beeg Show costumes, door contests, death polo, and fireside evenings.
And of course, there are the Inklings: a nightly tradition where kids are encouraged and cheered on to share portions of their work or showcase any talent—Irish jig, a poem, that double-jointed thumb—they wish. No one's work is criticized, and experimentation is met with resounding applause and cheers. Kids can try their hand at songwriting, singing, staring contests, knowing that whatever they choose to share will be met with support.
But it's not just the kids who find the camp an energizing place to learn, to try out new writings, and make new friends. We instructors are just as gleeful to be part of this camp, where learning and friendship seem to meet, along with great food (thanks, Matt & Co.!) and even greater conversation. Every year we instructors are excited to see who else is teaching at camp because we know we'll come away having learned more about the industry, writing, as well as what it is to pursue other artistic endeavours like spoken word poetry, dance, or singing.
And the kids!
It's hard NOT to be inspired by the students at this camp. They are fearless in their writing, willing to push boundaries and expand their skills. Their work—in a word—is exquisite. Beautiful writers, poets, designers of song and dance, YouthWrite offers them a place and a space to become the artists they envision themselves to be.
YouthWrite.
It's the place Mr. Rogers sang about, where every day was a beautiful day in the neighbourhood, the place that William Butler Yeats must have thought of when he said, "There are no strangers here; Only friends you haven't yet met."
This dynamic of one for all and all for one would not be possible without the stalwart band of musketeers, the supers. Men and women—artistic, all of them, educators, some of them—who choose to give up their time and summer to create an environment where adults and kids alike feel free to play with words and dance, are encouraged to try and try again. They are a tireless, energetic, fun-loving, and amazing band, rising early, going to bed late, all to ensure the camp is kept running smoothly, that everyone--child or instructor--is taken care of.
And all of this wonderfulness—the atmosphere, the high calibre of learning, the play in the prose—is thanks to coordinator Gail Sidonie Sobat, a woman of remarkable talent, skill, drive, and love for words and youth and artists of all stripes, evidenced in the fullness of the hearts she leaves behind at camp's conclusion.
Much gratitude and thanks to her, the supers, my fellow instructors and the students for an amazing week of laughter and learning!
Natasha Deen
for ages 11-14, please see our River Valley Experience 2015

or
for our adult program, please see JustWrite 2015


Never been to Kamp Kiwanis? Visit this page for the address and a link to Google Maps.
Cost: $575
(Price includes: tuition, supplies, meals, snacks, accommodation, and entertainment.)
YouthWrite is extremely proud to present our instructors for YouthWrite Peak Experience 2015!
Laura Burki

Dawn Carter


Natasha Deen


Cheryl Foggo


Jacqueline Guest


Stephen Heatley


Bob Jahrig


Clem Martini


Francis Mayrand

Trevor Nugent-Smith

Jana O'Connor


Mary Pinkoski


Carolyn Pogue

Pam Rocker

Loren Spector

Thomas Trofimuk


Sheri-D Wilson


&

Spyder Yardley-Jones
Laura (Sunshine) Burki - As a yoga teacher for over 11 years, Laura Burki's culmination of experiences and training have led her to create her own unique style of yoga involving vinyasa, acrobatics, music, fitness and life coaching. Her diverse background in yoga, leadership development, dance, reiki, reflexology, doula work, first aid and recreation informs her own personal journey and brings her passion for life and learning to each of her students. Her Yoga classes are regenerating, creative and a pure celebration of life.
Yoga And Creative Writing - Join Laura for a week filled with the exploration of yoga and creative writing. Our time will be spent bringing together the physical and mental body, finding space, expression and flow. Start each morning with a creative flow yoga class that weaves together yoga, acrobatics and meditation, and take the end of each class to find space to write about personal experiences, goals and reflections.


Dawn Carter believes writing is about seeing, being and feeling. She could not imagine a life without words and has written for as long as she can remember. She likes cosy scarves and tends to rhyme when she talks! She is a longtime, beloved YouthWrite instructor and we are delighted to have her return to us after a too-long absence.
The Poet's Game - Poetry can be deadly serious or ridiculously fun, and sometimes both. If you've chosen the game, then you've made a choice for a certain kind of life - one that is open to exploring all of the senses and a multitude of facets and possibilities. Join Dawn to write the words on your street, in your heart and write the rules to your own poet's game.
Natasha Deen's family left Guyana, South America to escape the country's growing racial and political violence. Since then, she's lived in small towns in British Columbia, big cities in Alberta, and even called New York home. When she's not writing about kick-butt heroes, twisted plots, and trying to make readers laugh, she inhales disgusting amounts of chocolate and races her dogs and cats for the best spot on the couch.
Riddle Me This: Finding the clues to writing a great mystery! - Whodunnits are all about the who and how they done it. Join Natasha and learn the secrets (including the SUPER BIG SECRET) to writing a great mystery that will keep your readers up all night!
Cheryl Foggo has been published and produced extensively in multiple genres. She received the Sondra Kelly Screenplay Award from the Writers Guild of Canada and was named Professional of The Year by the Obsidian Awards Society of Alberta in 2013. Her latest children's book is Dear Baobab and in 2014 her most recent play, John Ware Reimagined, played to sold out houses and was shortlisted for the WGA Drama Award and the Calgary Critic's Award. Cheryl has a documentary based on the life of John Ware in development with the NFB.
Blue Pencil Café - Work one-on-one with our resident expert on your work-in-progress. Get expert tips, constructive feedback, and industry insights for your writing. Sign-up at camp for this excellent editorial experience.

Jacqueline Guest is an international award-winning author of eighteen novels. She has stood on an iceberg, flown a kite in a hurricane and worn bedroom slippers in Parliament while on the job as a writer. Topics for her fast-paced books range from deadly video games to comic book superheroes and mysterious meteorites! She has toured across North America speaking on the importance of reading. In 2014, Jacqueline took this message all the way to Tanzania!
Past, Present and Future Writing - Can you alter the past? Is the future a page waiting to be written? Learn how to transport readers to another time, another world with the power of your words. All this, plus comic book superheroes and a real meteorite in a workshop that will test your Past, Present and Future Writing.
WARNING: You will construct an actual Time Capsule. Bring mementos to seal inside, such as poems, small toys or a memory stick with info and pics that represent you now!
Stephen Heatley is a nationally acclaimed director, actor, dramaturge, playwright, and educator. He was Artistic Director of Theatre Network in Edmonton from 1981 to 1992, Director of the Theatre School and Associate Artistic Director of the Citadel Theatre from 1994 to 1999. Stephen is a faculty member in the Department of Theatre and Film at the University of British Columbia and takes over as Department Head on July 1st. He co-wrote the Christmas musical The Other Side of the Pole with Marney Heatley and Edward Connell. A sought-after instructor, Stephen is excited to return to YouthWrite, which he taught at in its inaugural year and to which he returns nearly every summer!
Get a Life - There are lots of ways to coax a character out of your imagination and on to the page. "Get a Life" will explore ways in to the creation of compelling characters, using writing, journaling and acting techniques to find out what we can about the characters in each of us that are aching to get out! The goal is that by the end of the week, everyone will have written a dramatic monologue.
Bob Jahrig
is an Edmonton singer-songwriter. His songwriting reveals a love of language, melody and a search for beauty in the human spirit and the natural world. Bob released a debut CD, Tree Tops in 2002, and a second, Colour of the Moon, in the fall of 2008. In addition to performing at folk venues across Alberta, Bob has taught songwriting t

o youths for over ten years and as an artist in residence at public schools.
Write To Sing -
Discover the meaning and magic that happens when words on a page take flight on a melody. In a supportive and nurturing environment, work in small groups to explore the process of crafting your words into meaningful songs. While knowledge of mu

sic and ability to play an instrument are always helpful, the primary focus is on the writing process and how words can be wrapped around a melody.
Clem Martini is an award winning playwright, novelist, and screenwriter with over thirty plays, and ten books of fiction and nonfiction to his credit, including the Calgary Book Award-winning Bitter Medicine: A Graphic Memoir of Mental Illness and his most recent anthology, Martini With A Twist. His texts on playwriting, The Blunt Playwright, The Greek Playwright, and The Ancient Comedians are employed in universities and colleges across the country. He is currently the Chair of the Division of Drama in the School of Creative and Performing Arts at the University of Calgary.

Blue Pencil Café - Work one-on-one with our resident expert on your work-in-progress. Get expert tips, constructive feedback, and industry insights for your writing. Sign-up at camp for this excellent editorial experience.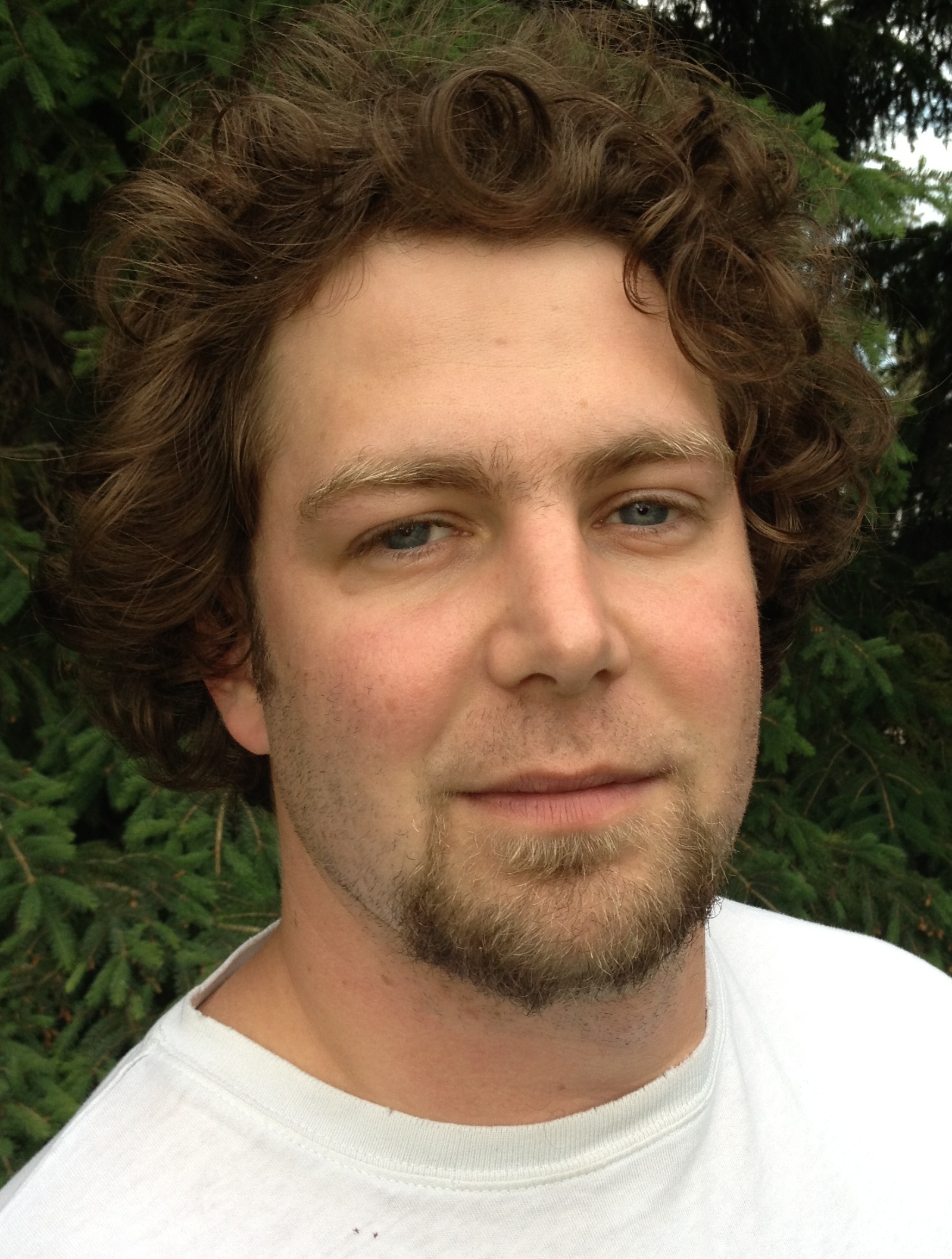 Francis Mayrand started his dance career at the age of fourteen in Montreal area where he was born and raised. He has been part of many groups, Les Pieds Légers de Laval, Reel et Macadam and Zéphyr . After many festivals and tours in Québec an
d Europe, he decided to pursue a full-time dance artist career. His love for traditional music, dance and choreography continue in Alberta, where he offers a residency artist program for schools, founded and directed the group Éfèmer. Francis is also currently dancing with the company Vinok Worlddance.
Body Beats - Throughout this workshop, explore different kinds of rythyms influenced by many cultures such as French Canadian, Hungarian, Romanian, Irish and South African (Gumboot). The goal is to provide an a cappella beat that will properly showcase the emotions derived from your writing. This course is back by popular demand!! Don't forget your rubber boots for gumboot fun!

Trevor Nugent-Smith's passion for percussion has been going strong for over 15 years as an instructor for all ages and as a dynamic performer. His teaching style is always fun and engaging, adding his own creative twists to bring his passion and joy to others through the power of music and connection. Trevor has a real knack for improvised performance and has played extensively in drum ensembles, accompanying DJs and musicians. Currently, he plays with the group Freak Motif, a 10-piece funk/world/reggae band.


Rhythm and Expression - Engage your musical and creative sides as we construct rhythms on West African hand drums and weave them into stories and poems. Once you get a hold of your inner rhythm and get comfortable with the drums, use these same dynamics of space and sound in your creative writing. Rhythm can be on a drum or in a piece of writing and can facilitate a mood, an energy, emotion or atmosphere. Explore how your own writing can be enhanced by the use of drums and percussion and an awareness of rhythm, space and dynamics when read out loud. Enjoy a fun week banging out beats, connecting and making music together with words!
Jana O'Connor is an Edmonton-born performer, improvisor, theatre instructor and playwright. She is also a cast member/writer on the national CBC Radio sketch comedy show, The Irrelevant Show. She adores improv - in performance, as a teacher, and as a catalyst for her writing. In 2010, Jana was awarded one of seven 2010 Lieutenant Governor of Alberta Emerging Artist Awards for her work as a playwright.


Eye Say! - Improvise your way to creating compelling characters that will inspire and sustain you on your YouthWrite journey. Delve into a world of collective creation, and experience the power of improvisation to propel the written word. Act on impulse and write on a whim!

Mary Pinkoski is the City of Edmonton's Poet Laureate, 2013 - 2015. As an internationally recognized spoken word artist, Mary tours on stages across the world, including most recently at the Winter Lights Festival in Reykjavik, Iceland. She is a Canadian National Slam Champion and a CBC Poetry Faceoff National Champion. When she is not performing, she works as a spoken word educator giving workshops for writers of all ages.
Gun Powder & Sparks: Exploding Your Poem from the Inside Out - Hey! Let's blow up your poems! Whoa, what? No seriously, let's pull them apart and see what new poetry universes we can create! Kind of like a big bang for poetry, in this class we start with a series of writing prompts (by which I mean, on day one we are gonna write so hard your fingers might fall off) and then throughout the rest of the week we will use those first-day words to make something new. We will look at how other poets have bent the shape of their writing, pushed boundaries, and become radical revisionists. Then we will try their techniques on our poems. It's going to be mind-blowing, in a poetry pyrotechnical way. Note: I like hearing your poem voices, so participants should come prepared to write a lot, read a lot, and share their poems a lot. This is a participation-heavy class, but you will be gently guided into this.

Carolyn Pogue is the author of 14 books of fiction and fiction for teens, children and adults. She is a peace activist who believes that we all have a role to play in creating a Culture of Peace. Carolyn helped to start peace camps for kids in Calgary and advocates for Alberta kids living in poverty. She loves YouthWrite.
Write4Change -
Explore your power to change the world.
Stories, poems, and essays 4 change are waiting to be freed from your pen. Exercise your imagination. Share stories. Experiment with free-fall writing. Explore our own wordpower to create change for the world we want.
Pam Rocker is an award-winning playwright, activist, and designer, who has worked in media and communications for over 9 years. She was recently nominated as one of Canada's top 30 activists by THIS Magazine, and has always been passionate about the intersections of comedy and social change. From crafting social media brands and websites to writing sketches, she seeks authentic engagement inside of our ever-changing digital culture and is passionate about challenging prejudice in non-prescript ways. Pam has trained in writing in Canada and Los Angeles, is proudly American and Canadian, and most importantly, loves Tina Fey and bacon.

Social Skillz: Writing and Storytelling Online - The Internet is full of infinite possibilities - no editors or publishers required! We can be our own boss, write our own rules, and find our own voice. But what do you want to say - really? What stories - whether 140 characters or 140 pages, do you want to tell? In this fun and highly interactive class, learn about crafting your own blog, being social media savvy, what makes a great website, and how to share your passion and voice with the world!



Loren Spector is a Calgary artist whose work has been shown internationally. She is also an art teacher, renovator of an old and sort-of-falling-apart house which is under constant re-design, and mom to two energetic children who keep her on her toes. She looks forward to her time at YouthWrite as a highlight of the summer, because of the creative young people she gets to work with there.


Identity in Hypertext - Bring your favorite words to this session, and we will bring them to life in a visual art context. In this studio class, participants will examine their own self-identity while creating a Found Object Poem-Sculpture, a Rancid-Ransom Note (Hey Mr. Premier—we stole your majority!) and a Text-in-Context Painting that gets up close and personal. This is where visual art meets writing, as your words inspire images. Bring painting clothes, a head full of ideas, and a photo or 2 of yourself. Oh ya, and bring that fearless imagination, too.

Thomas Trofimuk is an Edmonton writer who does not come lightly to the blank page. He has three books out in the world (The 52nd Poem, Doubting Yourself to the Bone, and Waiting for Columbus) and has just completed a fourth. He's a long-time teacher at YouthWrite, and a world famous, spasmodic dancer who trained with the Bolshoi Ballet Company. He also fibs, a lot (which is the second position of writing).
Ballet for Dummies (Girls or Guys!) - This is a writing class for guys or girls. What does ballet have to do with the craft of writing? Well, elegance, discipline, balance, beauty – these ideas exist in both ballet and in writing. In this peculiar fiction course, we will explore the first five ballet positions and their correlating first five positions of writing. We will work on our flexibility, our core strengths and we may even dance. Mostly, we will write.
Sheri-D Wilson is the Mama of Dada. Internationally recognized, Sheri-D has performed & taught Spoken Word at festivals around the world including stops in the USA, England, France, Mexico, and South Africa. She has won numerous awards and honours - her most recent is The 2015 City of Calgary - Arts Award. She has 9 collections of poetry of which Re:Zoom won the 2006 Stephan G. Stephansson Award for Poetry and was shortlisted for the CanLit Award. Sheri-D has two CDs (arranged by Russell Broom) and four award-winning Video-Poems. CBC called her One of the Top 10 Poets in Canada and in 2006 she was the National Slam Poet of Honour. Sheri-D is the founder and artistic director of the Calgary Spoken Word Festival.
Spoken Word Poetry meets Surrealism - Explore the history of Spoken Word and Surrealism. Write from the fire within. Play with many aspects of bringing your words to performance. Write, think and play - hard and soft - silly and serious. Take a walk on the wild side of poetry and prose.

Spyder Yardley-Jones bears the mark of a spider on his forehead and is an internationally recognized visual artist. Illustrator of the graphic novel, Jamie's Got a Gun, and the picture book, In the Graveyard, Spyder also spins his web as an assistant art preparatory, installing shows at the Art Gallery of Alberta. He teaches the art of cartooning and illustration in elementary, junior and senior high schools in an artist in residency program sponsored by the Edmonton St. David's Welsh Society.

3D Tragedy - You'll receive a paragraph about an epic tragedy. Upon reading this literary masterpiece, you'll sketch your interpretation of the event, whether single frame or series of frames. Then you'll create a diorama from your sketch or the climax of your sketch, thus creating a 3D tragedy.
YouthWrite Peak Experience Special Guests
Sigmund Brouwer - With four million books in print in seven languages, Sigmund Brouwer has written 27 novels and numerous series of children's books, including 25 titles with Orca Book Publishers. Sigmund's complete list of books consists of more than 100 titles for children and adults.
Nick Sousanis
wrote and drew his PhD dissertation entirely in comics form. Titled Unflattening, it is now a book from Harvard University Press. He's presented on his work and the importance of visual thinking in education at such institutions as Stanford, Princeton, UCLA, and Microsoft Research, along with keynote addresses for the Visitors Studies Association's and the International Visual Literacy Association. He has taught courses on comics as powerful communication tools at Columbia, Parsons, and now at the University of Calgary, where he is currently a Postdoctoral Fellow in Comics Studies.



Here are the YouthWrite application steps:

1. Register here or download the form. You may pay online (via PayPal) or via cheque to: YouthWrite Society Canada.
2. Prepare your documents:
A letter of reference

from a referee who knows your writing and special strengths (e.g. a teacher). Letters from relatives are NOT acceptable.

A sample of writing

- one poem (max. 75 lines) OR one sample of prose (max. 2 pages). Samples MUST be word-processed, 12-point font,

double-spaced

.

Please respect these restrictions.

DO NOT submit originals as samples will not be returned. Please submit only ONE writing sample.
Four YouthWrite

Questions

- Your thoughtful and well-written responses matter to us!
a) What school courses have you completed in English/ Language Arts?
b) What extra-curricular creative writing courses/ workshops/ activities have you previously
participated in?
c) Has your writing been published? If so, where?
d) What are your reasons for wanting to attend

YouthWrite

?
3. Send your documents via e-mail to: info@youthwrite.com or via Canada Post to:
YouthWrite Society Canada
10629 127 Street, Edmonton, T5N 1W2



4. Once we receive your registration payment and documents, and upon review of your writing samples, questions
and letter of reference, we will notify you
via e-mail
if you've been accepted into our
YouthWrite Peak Experience
or
YouthWrite River Valley Experience

.
5. We then will forward you a detailed handbook with thorough information about the camp for you and your parents to review, as well as a link to online course selection (when available).
6. Updates about the camps occur regularly, so check back for new posts.